Venue Come and meet us by the water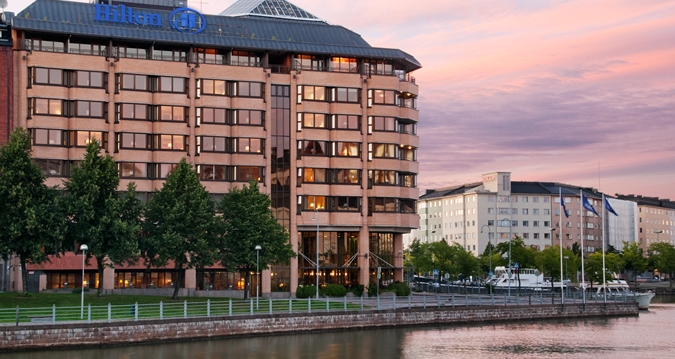 Visitors from out of town can of course stay at the hotel during the nights to minimize travel times.
To book the conference hotel, use the Hilton website and make sure you use the group code G1POSA to get our special rate of 103 € for single occupancy or 123 € for two, including breakfast and taxes.
Arriving by air
The easiest way to get from the airport to the hotel is to take the regional bus number 615. Follow the signs to the bus stop at the airport. There is a ticket machine at the bus stop, you will need a "regional ticket" ("seutulippu"), which costs 5.50 €. You can also buy a ticket from the driver, for the same price. The bus ride takes about 40 minutes. Get off the bus at the Hakaniemi Market Square stop. From there it's a 300 m walk from the bus stop to the hotel.
Another option is to take the regional P-train from the airport to the Helsinki Central Railway Station. From there it's a 1 km walk from the railway station to the hotel. The duration of the journey is about the same as with the bus.
The schedule and a detailed map of the journey can be found in the Helsinki Region Transport's journey planner.
If you have any questions regarding your travel arrangements feel free to contact us, we are more than happy to assist you.